Christmas in Edinburgh
Friday 03 November 2017

by Jessica Mendoza
Edinburgh is a city of dramatic views, changing skies and cute cobbled streets. A city so beautiful it breaks hearts again and again, especially during the festive season. So, as it's now November and we're starting to think about presents, mince pies and festive weekends away, we couldn't be more excited to think about a cheeky trip to our beloved Edinburgh.
For the past two years Edinburgh's "Street of Light" has become a favourite for locals and visitors alike, illuminating the West End each night with more than 60,000 lights alongside synchronised music from local choirs. A magnificent 280,874 tickets were issued last year and we can certainly see why, with the glistening lights and a breath-taking views, it's certainly a night to remember.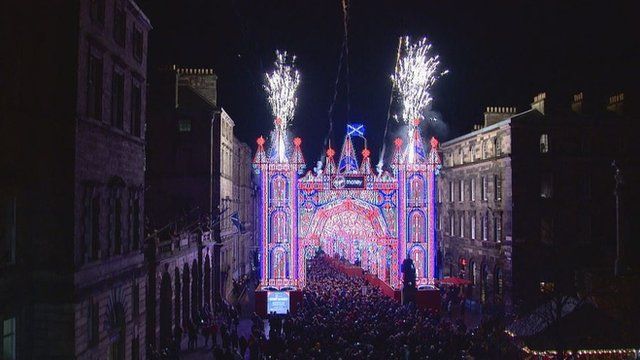 If you've seen Edinburgh's Street of Light before and fancy something a little bit different this year, Edinburgh has launched a brand new Ice Adventure – open for 2017! This chilly installation at the west end of George Street is an interactive walk filled with remarkable ice and snow sculptures. Life-like to say the least, you'll find all sorts – sculptures of Vikings, fairies, Mary Queen of Scots and of course the Loch Ness Monster. This attraction will also feature an ice bar.
Make sure to take a wander through the magically transformed city centre and be amazed by the winter wonderland created, across more than 100 stalls huddled within East Princes Street Gardens and the Mound. Pamper yourself with a variety of stock-fillers, crafts, tasty treats and warming drinks. If you can brave the heights (and the winter chill) enjoy the breath-taking panoramic views of the city from the Winter Ferris Wheel.
The fun doesn't stop at Christmas, Edinburgh's Winter Festivals run right through to the New Year! Edinburgh's Street Party welcomes the New Year with a festival spirit and breath-taking firework display. Expect to be dazzled!
If you do decide to visit Edinburgh this Christmas, we highly recommend staying at Eden Locke, a beautiful apartment in a beautiful city.